Update 16 May 2018: I'm rewriting the whole thing to make it more modern, more useful, and more supportable.  Current code is in my GitHub repository, https://github.com/MikeMcPherson/qsoviz.  The result, using AARC 2018 Field Day data, is at https://www.albemarleradio.org/fd2018viz.  It's designed for a large display, so use the "Full Screen" function on your Web browser to see the full layout.
Write-up for old version…
Looking to add a little "eye candy" to enhance interest at your next public operating event? That's exactly what the Albemarle Amateur Radio Club (AARC, www.albemarleradio.org) was looking to do for our 2015 Field Day site. We planned a public information booth at the Field Day site, and included a large-screen display with a loop of information about amateur radio, a display such as you might see in a local business or public office.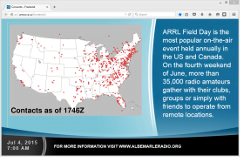 All-in-all, this was a fun and useful project. If you have an upcoming event that is open to the public I encourage you to adopt some modern electronic marketing technology and include a digital information display in your outreach efforts.
73, Mike KQ9P